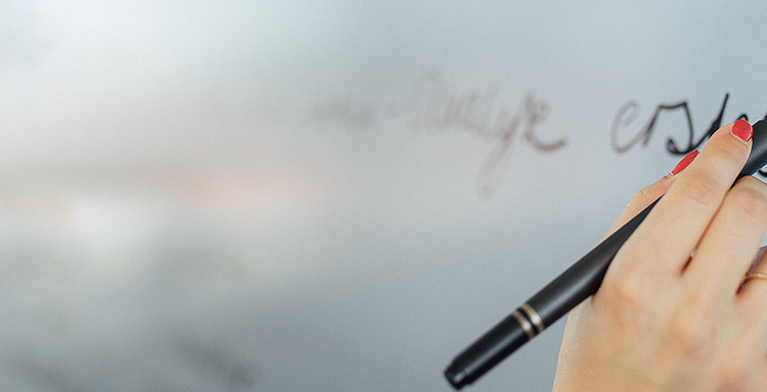 Research & development
Ferdinand Porsche FERNFH - The Distance-Learning University of Applied Sciences - conducts socially relevant research with the main focus on application-oriented research. We are cooperating with national and international partners on this. FERNFH views research as an important contribution to quality assurance in teaching and involves students at all levels of education in its research.

FERNFH's overarching research focus is the "digitisation and virtualisation of society in all its specific aspects". All researchers contribute to this research focus in the form of programme-specific research projects, cross-curricular research programmes or programme-independent third-party funding projects.
Our current research activities are located in the following research fields:
(New technologies for) promoting health and quality of life in old age
Dynamics of virtual working and learning in organisations & markets
Information systems, information management and information security
Applications for digital aids in the education and health sector
In addition, the individual study programmes are working on programme-specific research programmes and projects that address socially relevant issues in close connection with the content of the study programme.
The research department for "Digital Transformation" is particularly dedicated to questions of "digital transformation in knowledge and information transfer". More about the research departement for "Digital Transformation"...
Current research programmes
Students have the opportunity to participate in research programmes within the scope of their work on their bachelor's and master's degrees. The aim is to exchange literature and information on the topics of the programmes and to publish particularly good work at conferences and in journals.
Diversity Management in Companies
The research programme "Diversity Management in Companies" looks at how companies deal with the diversity (i.e. diversity in gender, age, disability, etc.) of their employees and customers. Questions of personnel management (personnel selection, personnel development, mentoring, etc.) and questions relating to marketing and market research are examined in this regard.
Virtual working and learning
In the research program "Virtual working and learning", we are interested in the effects of technical innovations such as new applications (instant messaging, social networks, Skype, e-mail, etc.) and new devices (smartphones, tablet PCs, ...) on the daily work routine. This virtualization of work and learning enables new (collaborative) forms of work. We examine influencing factors and effects of virtuality on work and learning on a social level with regard to reconciling work and family life, on an individual level with regard to well-being and on an organizational level with regard to changed work processes.
Flexible forms of work and learning, mobile working and cooperation in virtual teams over long distances also affect the compatibility of university and family. This specific aspect of virtual work and learning is also a focus of our research and our final theses.
Current research projects
ICare - Integrating Technology into Mental Health Care Delivery in Europe
Funded by the European Union through the Horizon 2020 Research and Innovation Programme.
Goal: To establish a comprehensive care model to promote mental health in the form of an online platform with interventions for the prevention, early diagnosis and treatment of common mental illnesses.
FERNFH is a partner in the research association "ICare – Integrating Technology into Mental Health Care Delivery in Europe" (www.icare-online.eu). The research network is coordinated by Prof. Corinna Jacobi (TU Dresden) and funded by the European Union through the Horizon 2020 Research and Innovation Programme. Further details about the ICare project...
Research & development
Head of department