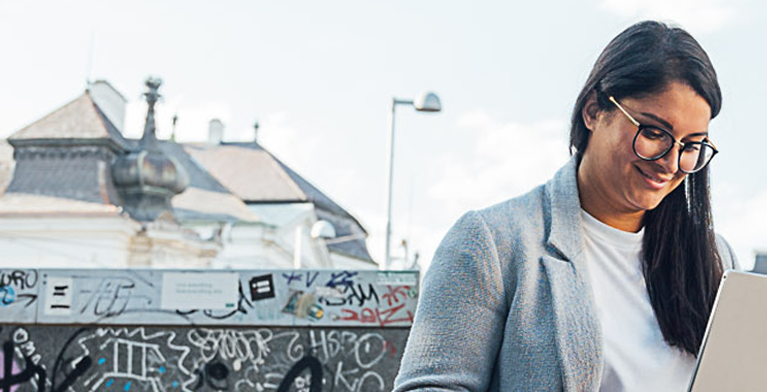 Karin Waldherr
Karin Waldherr holds a doctorate in psychology from the University of Vienna and is a clinical and health psychologist. From 2008 to 2013 she was a key researcher for evaluation at the Ludwig Boltzmann Institute Health Promotion Research in Vienna. From 2013 to 2017, she established and led the bachelor program "Aging Services Management" at FERNFH. Since 2017, she has led the FERNFH's Department of Research and Development and the continuing education course "Evaluation in Health, Social and Educational Settings". Since 2023, she has headed the Institute for Health Sciences at the Ferdinand Porsche FERNFH.
Her work focuses on evaluation and implementation research, health promotion, prevention and treatment of mental illness across the lifespan (especially eating disorders and associated mental illnesses), and Digital Mental Health. In addition to project leadership in numerous evaluation projects, she was Project Leader at FERNFH and Task Leader of the Stakeholder Survey of the Horizon2020 project "ICare - Integrating Technology into Mental Health Care Delivery in Europe" (Grant agreement No 634757) from 2015 to 2019. From April 2023 she is Co-Project Leader of the project "Prototyping a serious game intervention promoting mental health literacy in children and adolescents", which is implemented in cooperation with the Medical University of Vienna (Project Leader: Dr. Michael Zeiler) and funded by WWTF (Grant ID: 10.47379/LS22030).
Among other positions, she is a board member of the Austrian Society for Eating Disorders (ÖGES), a member of the Austrian Society for Public Health (ÖGPH) and its Public Mental Health and Gerontology Competence Groups, a member of the Academy for Eating Disorders (AED) and Co-Chair of the Partners, Chapters & Affiliates Committee of AED, and a founding member of the Global Implementation Society (GIS). Waldherr is also an Associate Editor at the journal GIRA - Global Implementation Research and Applications, a member of the Editorial Board of Digital Psychology, a Review Editor at Frontiers in Digital Health, Section Digital Mental Health, Guest Editor of several Special Issues on Eating Disorders and Associated Disorders, and a member of the Scientific Advisory Board of Fonds Gesundes Österreich (FGÖ).
Since 2023
Head of Institute of Health Sciences at
Ferdinand Porsche FERNFH

2017 – 2023

Head of Research & Development, Programme Director
Evaluation in the Health, Social and Education Sector
at Ferdinand Porsche FERNFH

2014 – 2017

Programme Director BA in Aging Services Management
at Ferdinand Porsche FERNFH

2013 – 2014

Head of Development Team for the BA in
Aging Services Management
at Ferdinand Porsche FERNFH

2008 – 2013

Key Researcher Evaluation, Ludwig Boltzmann Institute of Health
Promotion Research, Ludwig Boltzmann Society, Vienna

2008 – 2016

External lecturer, Introduction to Quantitative Methods,
Faculty of Psychology, University of Vienna

2008 – 2013

External lecturer, Applied Methodology and Statistics,
BA in Business Administration & Psychology, FernFH

2004 – 2008

University Assistant, Department of Methodology, Institute for
Basic Psychological Research, Faculty of Psychology,
University of Vienna

2001 – 2004

University assistant (part-time), Department of Methodology, Institute
of Psychology, Faculty of Basic and Integrative Sciences,
University of Vienna

1995 – 2000

Contract Assistant, Department of Methodology, Institute of Psychology, Faculty of
Basic and Integrative Sciences, University of Vienna
2003 – 2005

International postgraduate training on the treatment of eating disorders

2001 – 2004

Postgraduate training as clinical psychologist and health psychologist

1995 – 2001

Doctoral studies, Faculty of Psychology, University of Vienna
Topic: Differential Item Functioning analyses using the family
of Rasch models

1987 – 1995

Diploma in Psychology, University of Vienna
Memberships of Academic Societies
Austrian Society on Eating disorders (ASED), Vice president
Academy for Eating Disorders (AED), representative of ASED on the "Partnership, Chapter and Affiliate Committee"
DeGEval Evaluation Society
Austrian Society for Public Health (ÖGPH)
European Public Health Association (EUPHA)
German Speaking Implementation Assocation (GSIA)
Global Implementation Society (GIS), founding member, Co-Chair of GIS Journal Committees
Institute of Health Sciences
Head of Institute